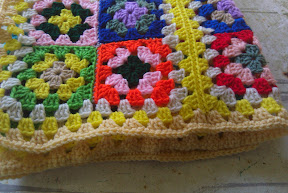 I finally put an edge around this afghan. My husband chose the color and made the decision for me to only do one round of single crochet around it. He said anything more would take away from the great grannies in the middle... He loves it but I think it looks totally unfinished. Opinions please. I always ask his opinion but then never use any of his suggestions and it hurts his feelings, so this time I decided to go with what he said.
I am currently working on a quick and easy poncho right now andit should be done next week due to tons of med science homework. Then I'll be working on slippers for the boys since they put in a request for camo ones before winter gets here.
I also want to make Amelia adress for her birthday I just have to find a pattern I like.
Happy Hookin and Happy Labor Day weekend! Everyone besafe and enjoy!